Posts filed under 'Children'
In honor of my daughter's first birthday, I thought I'd share with you the top 10 things that helped me not only survive my first year of motherhood but also actually really enjoy it.
1. 
Bouncer: My daughter had the Fisher-Price Rainforest Bouncer and absolutely loved it.  It gave me a few moments to myself when she was an infant, and she would usually fall asleep in it too.  I knew she was contained and safe and also relaxed while in it.
2. 
La Leche League Meetings:  If a new mom is planning on breastfeeding her baby, I cannot stress enough the importance of finding a group of women you can talk to that truly understand the challenges you are going through.  You can even attend a few meetings before the baby is born to familiarize yourself with everyone (not to mention learn so many helpful tips to make life easier for you).  If interested, check out the LLLI Website.
3. 
Moby Wrap:  A baby carrier is such a wonderful thing when you really feel like you need to be getting things done, but your baby wants nothing but to be held by you.  Moby wrap to the rescue!  Some days, nothing would calm my daughter but this magical piece of cloth. 
4. 
Baby Signing Time DVDs:  I regularly used this whole series of DVDs with my daughter (gasp!!!).  I know some people are completely against babies watching TV, but I must say that this has been such a joy for my daughter and I to learn American Sign Language together.  It was one thing that I truly looked forward to doing every day with my daughter.  She now has started being able to communicate using signs.  I'm hoping this will cut down on a few temper tantrums. 

5.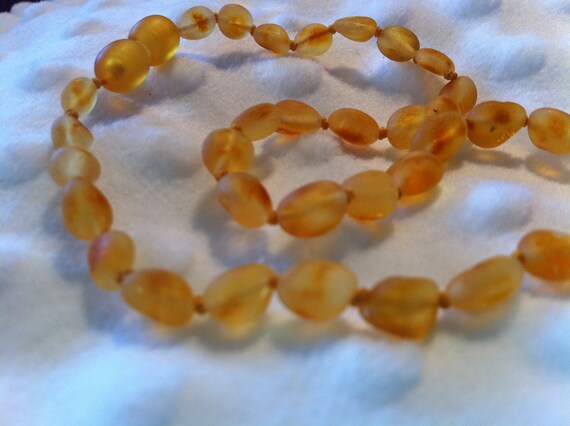 Amber Teething Necklace:  Not to chew on, but this is a necklace to wear.  The Baltic amber resin releases oil into the skin that is a natural pain reliever and anti-inflammatory.  Ever since my daughter started wearing this, she has stopped waking up in the middle of the night screaming.  (though she does still wake up at night…at least now she's a little more calm about it)
6. 
Book Babies:  This is a library story time for babies and their caregivers.  It is a fun group that meets once a week at the library to say rhymes, sing fun songs, blow bubbles, read books, and play.  It is so good to get out of the house and meet with other parents who have a child in the same stage!  Plus, it is a fabulous way to interact with your own child.  An added bonus is that it usually wears my daughter out and she takes a great nap when we get home. 
7. 
Books galore:  I cannot stress enough how important it is for new moms to have an assortment of captivating books waiting for them during middle of the night wake-ups.  It almost (I did say ALMOST) makes me want to get out of bed at 1:00, 3:00, and 5:00 in the morning. 
  So, I often raid the library for a stack of intriguing books to store right next to the rocking chair.  For Christmas, I received a Kindle Touch, which has been an amazing blessing.  Now I can hold numerous books in one hand and easily turn pages without disturbing my almost-asleep little one!
8. 
Date nights:  Keeping my relationship strong with my husband during this first year with a child has been so tough but so rewarding.  Going on a weekly date night (thanks to my amazing parents and parents-in-laws) has helped me strengthen the bond with my spouse, best friend, and confidant during this life-changing and sometimes stressful time in my life journey.
9. 
Play Ideas:  Two books that I turned to time and time again for ideas on things I could do with an infant, a crawler, and then a toddler were: Baby Days by Barbara Rowley and Baby Play.  For any new mom who has not quite figured out how exactly to interact and play with your new baby (you know, for all those moments when they are not sleeping, not crying, not needing a diaper change, and not eating).  I found these two books full of terrific ideas, and my daughter and I had many fabulous play experiences together based on ideas in these books.
10. 
Daily Walks Outside:  Not only does getting some form of physical activity help decrease risk of postpartum depression, but it also makes a new mom feel better about her body.  I met up with a neighbor daily for a walk around our neighborhood (weather permitting of course).  Weekly I also met up with some friends to walk at a park.  The conversation with other adults was a much needed break from baby talk, and the exercise always made me feel energized.  An added bonus to this is that getting a daily dose of sunlight very quickly set my daughter's days and nights on a normal track.
I hope any new moms out there find this list helpful.  I would love to hear the things that helped you survive your first year of motherhood.  Also, if any moms out there want to give me their top ten things for enjoying the second year of being a mom, I would be extremely grateful.