Posts filed under 'Food'
I recently gave a nutrition talk at a local elementary school's PTA meeting, and I thought I would share the ideas and resources here on my blog, so all of you can share in these delicious (and nutritious) breakfast ideas. 
Inspired by the Eat This Not That books, I organized my talk by discussing quick, easy, delicious, and healthy alternatives to some of the most popular children's breakfast items out there today.  For each unhealthy breakfast item, I list a better option and then a best option.  The main difference between my lecture and the Eat This Not That books is that in general, I tried to focus on healthy, whole-food alternatives that are not pre-packaged whereas the book gives you packaged alternatives.  Here goes:
1.  Instead of sugary cereal
Try a cereal with less sugar and more fiber like Cheerios or Kix
Interested in reading some nutrition labels and finding your own best cereal option?  Click here for some strict guidelines you could follow to choose a better bowl of cereal, or try these more flexible guidelines developed by a registered dietitian.
The best alternative would be oatmeal.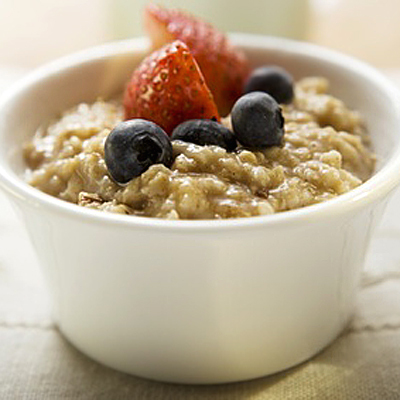 Three different ways to make oatmeal quick and easy:
Instant – Yes, you could buy the instant flavor packets, but you are also buying plenty of added chemicals when you do that.  Try making your own instant oatmeal packets for a better bowl of oatmeal at a fraction of the cost.
Regular – You can easily cook regular oats in the microwave in less than 3 minutes!  Some delicious topping ideas are yogurt, fruit, drizzle of honey, cinnamon, apple butter, or applesauce.  My all-time favorite bowl of oatmeal is made by mixing in 1 or 2 Tbs peanut butter plus one mashed up over-ripe banana.  Yum!!!
Overnight, No-Cook Oatmeal – I cannot believe it has taken me this long to try it.  Basically, you mix old fashioned oats with milk, yogurt, and any flavorings you want and then refrigerate overnight.  The oatmeal is ready to eat in the morning; just pull it out of the fridge and enjoy cold!  This is absolutely perfect for our hot summer days and it is delicious!  Click here for some recipes and awesome flavor ideas.  I love the cocoa banana; I consider it a valid and healthy reason to eat chocolate for breakfast.    One note, I have made these recipes with the chia seeds as recommended, but you could leave them out if you want.  You would probably need to add a few more oats if you do that, but I highly recommend you try to find the chia seeds and add them.  Chia is an excellent source of essential omega-3 fatty acids as well as protein.  Enjoy!
2.  Instead of Pop-Tarts
Try toasted whole wheat English muffins spread with all-fruit jelly.  Even better, top it with peanut butter* and strawberries.
*A note on peanut butter – Unless you absolutely want to consume extra sugar, unhealthy oils, and various chemicals, your peanut butter should have only 2 ingredients: peanuts and salt.  Yes, you can find this in the regular grocery store; just read your labels!  Some will argue that peanut butter like this is annoying because the oil separates.  All you have to do is mix the peanut butter once really good when you purchase it and then store it in the fridge; if eaten in a reasonable amount of time, the oils will not separate that badly again.
The best option (and super portable just like Pop Tarts) would be homemade trail mix.  You can make it super simple by just mixing peanuts and raisins together, or you can get fancy with other nuts and dried fruit.  Want to be a super saavy nutrition oriented person?  Anytime you consume a vitamin C rich food along with a source of iron, the body will be able to absorb more of the iron.  Therefore, add a small glass of orange juice or an actual orange to this meal to help the body absorb the iron in the raisins.  And yes, oranges are very portable as long as you purchase the mandarin orange variety (commonly sold as Cuties); the skin peels easily and there are usually hardly any seeds.
3.  Instead of white flour pancakes or waffles topped with butter and syrup
Try a variety made with whole wheat.  Better yet, make your own using whole wheat flour.
The best option would be to top the waffles with something healthier than butter and syrup.  Try peanut butter and bananas or apple butter and blueberries.  Yogurt or applesauce are also good toppings.  Another fun and healthy idea that falls into this category is to make a banana dog, which is simply an entire banana placed inside a whole wheat hot dog bun spread with peanut butter.
4.  Instead of Toaster Scrambles
Try Triscuit crackers and cheese* slices (microwaved for 20 seconds if you like it hot).  I specify Triscuits because of their simplicity.  They have only three ingredients: whole wheat, oil, and salt.  Try finding that in any other store bought cracker!  Have you ever read the ingredient list on Wheat Thins?  It is riddled with words I cannot pronounce.  I don't know about you, but when I buy crackers, the last thing I want to buy is a ton of chemicals!  Another hot breakfast option is simply to reheat leftovers from last night's healthy dinner.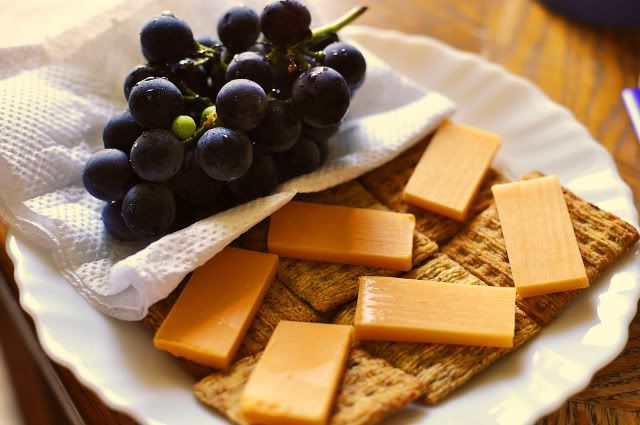 *A note about cheese.  Make the switch to block cheese and you will not only save yourself money but will also decrease unnecessary ingredients from entering your body.  Here are the ingredients in block cheese:  Milk, cheese culture, salt, enzymes, and sometimes annatto which is a coloring agent that can be avoided if you purchase white cheese.  The ingredients in a package of pre-shredded cheese include all of the above PLUS:  potato starch, cellulose powder, calcium sulfate, and natamycin (yes, this is basically an antibiotic…it is added to shredded cheese to prevent mold growth).  No wonder cheese tastes better when you shred it yourself! 

The best option to replace a Toaster Scramble would be to make your own breakfast burrito using eggs, whole wheat tortillas, salsa, and cheese.  Some may argue that this is not quick or easy, but I will tell you that eggs scramble in no time at all on the stove.  If you do not want to mess with dirtying a pan to cook the eggs, you can easily make scrambled eggs in the microwave.  Here is a tutorial that shows you how.  It does not get an easier than this!  Oh, and the eggs made in the microwave taste great; I have tried it!  Bonus points if you have any leftover beans you can throw into the burrito for some extra protein and fiber.
5.  Instead of a Starbucks Frappucino
Try making your own chocolate or strawberry milk.  You will not only save money but will save your body from ingesting the whopping 39 grams of sugar found in the frappucino (homemade chocolate milk has only 13 g of sugar).  I'll admit that a glass of chocolate milk is far from a complete breakfast, but it is a vast improvement to the frappucino.
The best substitution in this case would actually be to make your own smoothie out of yogurt, fruit, and milk, but I must admit to you that I never do this because I absolutely hate cleaning the blender!  Does anyone else out there agree with me that washing a blender is the absolute worst kitchen chore?  Anyway, because I am trying to make these suggestions quick and easy, I say the best thing to have for breakfast instead of a frappucino would be a delicious bowl of plain Greek yogurt topped with blueberries and a drizzle of honey.  This is actually my go-to breakfast and snack and is a fabulous option for anyone trying to increase their protein intake (Greek yogurt is an excellent source of protein).  If you use frozen blueberries and microwave them for 30 sec to 1 min first, then you will have some blueberry juice as well that helps to flavor and color the yogurt.
Now, I am not saying that all of these options are the perfect, wall-balanced breakfast; but I am saying that all of these options are better than the unhealthy, pre-packaged variety shown at the start of each suggestion.  You could easily add a glass of milk and a piece of fresh fruit to make a more complete breakfast.
What if you need something even simpler?  What if you literally do not have the time or frame of mind to think about combining a few things to make a breakfast?  You can opt for two other easy ideas:
Fruit and cheese
Fruit and nuts
The best fruits that require minimal preparation in my opinion are: bananas (they have their own wrapper!), kiwi (just slice in half and eat with a spoon), mandarin oranges (otherwise known as Cuties), Apples (wash and go), and avocado (slice in half, remove pit, and eat half with a spoon).
When all else fails, just pour a tall glass of milk and call it a breakfast!  It may not be the ideal balanced breakfast, but that is much healthier than eating nothing at all.
I hope you found these ideas helpful in your busy life.  Please pass along any of your own healthy breakfast ideas my way.  I would love to try them.
Are you looking for more information regarding healthy eating for kids?  My favorite sites are:
Eatright.org/kids – This is our American Academy of Nutrition and Dietetics
RaiseHealthyEaters.com – This is a very useful website made by a registered dietitian.  There are plenty of recipes and interesting articles here.
Weelicious.com – This site has a plethora of unique, fun, and mostly healthy food ideas for children.